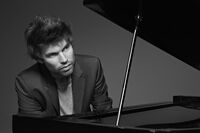 Thomas Bartlett (born October 13, 1981), also known as Doveman, is an American pianist, singer, and producer, best known for his work with Sufjan Stevens, Glen Hansard and The Gloaming. He is also one of the writers of the song "Wait for Life", alongside Emile Haynie and Lana Del Rey.
Work with Lana Del Rey
Edit
Songs from We Fall (2015):
Ad blocker interference detected!
Wikia is a free-to-use site that makes money from advertising. We have a modified experience for viewers using ad blockers

Wikia is not accessible if you've made further modifications. Remove the custom ad blocker rule(s) and the page will load as expected.