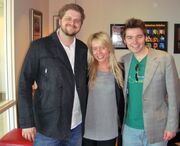 The Nexus is the collective name for the songwriters and producers David Sneddon and James Bauer-Mein. The production team have worked with Lana Del Rey several times, notably on "National Anthem" for her debut major-label album Born to Die.
Work on "National Anthem"
Edit
Main article: National Anthem (song)
The team created a demo for the song with pop-orientated production that was used in a homemade video by Del Rey in 2010. The production was later scrapped for a sound more fitting to the album, though the pair's work as writers are still credited. The song was later released as the fifth single from the album.
Work with Lana Del Rey
Edit
Songs from Born to Die (2012):
Songs currently unreleased: