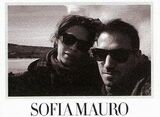 Sofia Sanchez & Mauro Mongiello are Paris-born photographers. The two met in Buenos Aires. In 2002, they were awarded with the Picto prize for young fashion photographers and have been working together since. They have worked for various magazines, including the French magazine Obsession, where Lana Del Rey appeared on the cover in December, 2012.
Shoot #1 (Unknown, 2012) for Obsession magazineEdit
Media use
Edit
Ad blocker interference detected!
Wikia is a free-to-use site that makes money from advertising. We have a modified experience for viewers using ad blockers

Wikia is not accessible if you've made further modifications. Remove the custom ad blocker rule(s) and the page will load as expected.