Lana Del Rey (Elizabeth Woolridge Grant) was born in New York City, New York, on June 21, 1985. She was raised in Lake Placid, New York, with her brother Charlie and sister Chuck. She began writing music after learning guitar from her uncle at age 18, and while still in school in New York, began performing at many underground clubs. She recorded her first record, Sirens in 2006, under the pseudonym May Jailer. In 2008, she collaborated with David Kahne to put out her first studio album, Lana Del Ray, which was released on January 4, 2010. Though critical reception for the record was positive at the time, it was pulled from online retailers when Del Rey changed management and started focusing on gaining a major record deal. Del Rey soon bought back the rights to the record. In late 2011, she recorded "Video Games" with Justin Parker, and posted the video to her YouTube channel. The song and video garnered instant attention and sparked record deals with Stranger, Interscope, and Polydor. She released her major-label debut, Born to Die, on January 27, 2012. Its singles, including "Blue Jeans" and "National Anthem", helped Del Rey expand her fanbase. In the summer of 2012, Del Rey worked with both H&M and Jaguar to become a spokesperson for their products. She re-released Born to Die with 8 new tracks, as well as a standalone EP, Paradise, on November 9, 2012. Del Rey then began her foray into soundtracks, releasing "Young and Beautiful" in April, 2013, for the film ''The Great Gatsby'', then "Once Upon a Dream" in January, 2014, for ''Maleficent''. On June 13, 2014, she released her sophomore major-label album, Ultraviolence, featuring the singles "West Coast", "Ultraviolence" and "Black Beauty". The album was received warmly by critics who appreciated her shift towards a rawer sound. Del Rey contributed to another soundtrack in late 2014, recording two songs, "Big Eyes" and "I Can Fly", for the film ''Big Eyes''. On September 18, 2015, Del Rey released her third major-label album Honeymoon, which was preceded by two singles, "High By the Beach" and "Music to Watch Boys To". Critics noted the album was another change for Del Rey, featuring trap influences and a more pop-friendly sound that contrasted sharply from her previous record. In late 2015, Del Rey said that she had thoughts of making another record. Since then, it has been confirmed that Del Rey's new album is in the works - if not already finished - and will be coming out in 2017. The first single from the new record, titled "Young and in Love", was registered on Harry Fox Agency in January, 2017; the new single is expected to be officially announced and released soon. According to Del Rey, the new album will have a "clarity of inner dialogue" in which she feels will come through better, while staying in the same aesthetic of her previous work.

ALBUMS
EXTENDED PLAYS
SINGLES
Neil Krug is an American director, photographer and artist based in Los Angeles. He worked with Lana Del Rey throughout 2014 to shoot the cover for her second major-label album Ultraviolence and for her 2015 third major-label album Honeymoon as well as other promotional images.

Check out some of his most recent shoots for Del Rey, and the other ones he's done in previous years. SEE MORE >

 

"Freak" is a song by Lana Del Rey that is featured on her third major-label full-length album Honeymoon. A music video for the track debuted on February 9, 2016, after previous weeks of teasing and promotion.
WELCOME TO THE

Get Started • Create Article • Sandbox • Admins
Welcome to the Lanapedia!
We have created and continue to contribute to the largest and most complete fan resource for Lana Del Rey, an American singer-songwriter who has changed the face of music in just a few years. Information on her upcoming album, as well as her previous releases, photographers, music videos, unreleased songs, biographies, and anything else you'd ever want to know about Del Rey is either on its way, or already here!
Feel free to contribute to our database - any and all contributions are greatly appreciated! Thank you.
Follow us on Twitter: @lanadelreywiki
Here are some links to give you some ideas on what needs editing.
If you're new to wikia, check out some of these help pages to get started.
40,970 edits to 679 articles since December, 2012.

What is your favorite album by Lana Del Rey?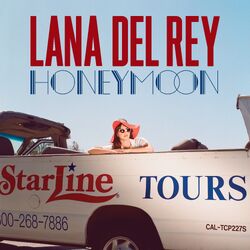 Honeymoon is the fourth studio album and third major-label record by Lana Del Rey. It was released on September 18, 2015, by UMG Recordings. Click here to read more.
The Freak music video was directed by Lana Del Rey herself. It is an 11-minute film that stars Father John Misty, who plays as Del Rey's paramour in the gauzy, sun-soaked clip.
At around halfway through the video, "Freak" fades down and the opening notes of Claude Debussy's "Clair de Lune" begin to swell, leading to a five-minute slow-motion sequence where Del Rey and a group of sea nymphs swirl around underwater; this portion is a nod to Del Rey's "Music to Watch Boys To" video and stars the same girls from that clip. Eventually, Father John Misty is also submerged and given a baptism of sorts by the women around him.
Prior to the video's VEVO premiere, "Freak" debuted on the night of February 9, 2016, at a special screening at The Wiltern Theatre in Los Angeles, California.
Ad blocker interference detected!
Wikia is a free-to-use site that makes money from advertising. We have a modified experience for viewers using ad blockers

Wikia is not accessible if you've made further modifications. Remove the custom ad blocker rule(s) and the page will load as expected.