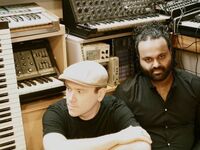 Kid Gloves is a production team consisting of songwriters and producers Roy Kerr and Anu Pillai. The team have worked with Ladyhawke, Little Boots and VV Brown. They worked with Lana Del Rey in 2010.
Work with Lana Del Rey
Edit
Songs currently unreleased:
Ad blocker interference detected!
Wikia is a free-to-use site that makes money from advertising. We have a modified experience for viewers using ad blockers

Wikia is not accessible if you've made further modifications. Remove the custom ad blocker rule(s) and the page will load as expected.