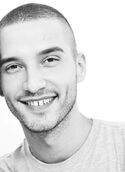 Karim Sadli is a Paris-based photographer who did a photoshoot with Lana Del Rey in 2011 in London, England. It was published in an editorial in V Magazine on January, 2012.
Shoot #1 (Unknown, 2011)
Camera - Unknown
Location - Town Hall Hotel, London, England
Stylist - Jay Massacret
Stylist assistants - Olivia Kozlowski, Mara Palena, Vera Calcagno, Maria Sbiti
Creative consultant - Johnny Blueeyes (OBRepresents)
Makeup artist - Pamela Cochrane (OBReperesents)
Makup assistant - Katie Nixon
Hair - Anna Cofone
Manicure - Mike Pockock (Streeters)
Digital capture - Edouard Malfettes (Digit Art)
Photo assistants - Antoni Ciufo, Antoine Breant
Coloring - Marc Ramos
Retouching - Imagin' (Spring Studios, London)
Special thanks - Andy Silva, Kimberley Brown (Purple PR), Town Hall Hotel and Apartments
Blouse by Louis Vuitton, mascara by Chanel (in Noir)
Pants by Jil Sander, bra and earrings Lana's own
Bodysuit and earrings by Prada, bra Lana's own
Bodysuit by Dolce & Gabbana, earrings Lana's own
Media use
Links
Ad blocker interference detected!
Wikia is a free-to-use site that makes money from advertising. We have a modified experience for viewers using ad blockers

Wikia is not accessible if you've made further modifications. Remove the custom ad blocker rule(s) and the page will load as expected.