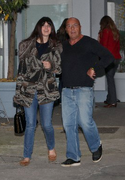 Jean-Baptiste Mondino is an Paris-based photographer and filmmaker. He is well-known for his massive music video filmography, featuring artists such as Madonna, Björk, and Prince. He did a shoot with Lana Del Rey in 2011 to promote Born to Die, published in the French magazine Liberation Next. He later shot Del Rey in 2012 to promote Paradise, which was featured in the French periodical Madame Figaro.
Shoot #1 (Unknown, 2011)
Media use
Shoot #2 (November 14, 2012)
Media use
Links
Ad blocker interference detected!
Wikia is a free-to-use site that makes money from advertising. We have a modified experience for viewers using ad blockers

Wikia is not accessible if you've made further modifications. Remove the custom ad blocker rule(s) and the page will load as expected.