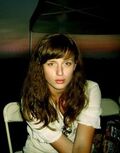 Glynis S. A. Carpenter is a fashion and editiorial photographer, artist, and painter who recieved a degree in Medieval literature. She did a photoshoot with Lana Del Rey in December, 2011. It was featured as the cover and editorial in Complex magazine in their 2012 February/March edition worldwide alongside an alternate issue featuring A$AP Rocky for the same edition.
Vintage robe & jewelry Lana's own
Dress by Betsey Johnson, jewelry Lana's own
Dress by unknown, jewelry Lana's own
Dress by ERES, jewelry Lana's own
Trench coat by Betsey Johnson, vintage corset stylist's own, jewelry Lana's own
External links
Edit
Ad blocker interference detected!
Wikia is a free-to-use site that makes money from advertising. We have a modified experience for viewers using ad blockers

Wikia is not accessible if you've made further modifications. Remove the custom ad blocker rule(s) and the page will load as expected.