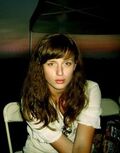 Glynis S. A. Carpenter is a fashion and editiorial photographer, artist, and painter who recieved a degree in Medieval literature. She did a photoshoot with Lana Del Rey in December, 2011. It was featured as the cover and editorial in Complex magazine in their 2012 February/March edition worldwide alongside an alternate issue featuring A$AP Rocky for the same edition.
External links
Edit
Ad blocker interference detected!
Wikia is a free-to-use site that makes money from advertising. We have a modified experience for viewers using ad blockers

Wikia is not accessible if you've made further modifications. Remove the custom ad blocker rule(s) and the page will load as expected.