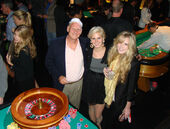 Lana Del Rey (born Elizabeth Woolridge Grant) is from the family names Grant and Hill. Here is a genealogy of her family, including members of unknown relation.
Nuclear family
Edit
Paternal grandmother - Cynthia Grant
Paternal grandfather - Robert England Grant Sr.
Paternal granduncle - Richard Grant
Paternal uncle - David Grant Sr.
Paternal uncle - Jim Grant
Paternal cousin - David Grant Jr.
Paternal cousin-in law - Marya Grant
Paternal nieces and nephews

Noah Grant
Greta Grant
Azalea Grant
Judah Grant

Unknown relation or unconfirmed

Tyler Grant
Christy Grant
Riley Grant
Casey Grant
Caitlin Grant
Meagan Grant
Lora Scantlebury-Grant
Heather King-Grant
Ted Grant
Calvin Grant
Molly Grant
Gabby Grant
Davlyn Grant
Maternal grandmother - Madeline McClean-Hill
Maternal grandfather - Donald P. Hill
Maternal aunt - Joan Hill-Dekoker
Maternal aunt - Sally Hill-Megear
Unknown relation

Aaron Hill
Lisa Bennet Hill
David Charles Hill
Kaylee Hill
Ad blocker interference detected!
Wikia is a free-to-use site that makes money from advertising. We have a modified experience for viewers using ad blockers

Wikia is not accessible if you've made further modifications. Remove the custom ad blocker rule(s) and the page will load as expected.