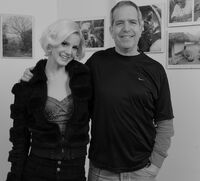 David Kahne is a Grammy-winning songwriter and producer. He has produced a massive collection of albums and singles for artists like Paul McCartney and Tony Bennett, which have received various industry accolades. Him and Lana Del Rey began working together sometime in 2007 (we know this because the Lana Del Ray album masters were finished as of February 2008), and produced her debut studio album after he had received her demo tape, No Kung Fu. On working with Kahne, Del Rey said
"My producer, David Kahne, and me got along very well because he knew that I lived in my songs, and so he just tried to make them better. He asked me in a letter what I wanted the record to sound like, and I said, "I want it to sound famous, like a sad party." He thought that was a wonderful idea, and we began working the next day. I like to think we're birds of a feather."
The two recorded every day for around 3 months to produce the entirety of Del Rey's first EP, Kill Kill, and her first studio album, Lana Del Ray.
Work with Lana Del Rey
Edit
Songs from Kill Kill (2008) and Lana Del Ray (2010):
Songs currently unreleased:
And more as yet unnamed by traders.
Kahne & Del Rey in See Squared Studio, New York City
Kahne, Del Rey, & Unknown in unknown studio
Ad blocker interference detected!
Wikia is a free-to-use site that makes money from advertising. We have a modified experience for viewers using ad blockers

Wikia is not accessible if you've made further modifications. Remove the custom ad blocker rule(s) and the page will load as expected.