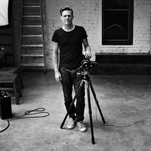 Bryan Adams is a Canadian rock singer, actor, and photographer who did a photoshoot with Lana Del Rey in February, 2012 in London, England. It was featured as the cover and editorial in Zoo Magazine in Summer, 2012. He photographed her again for D La Repubblica magazine.
Shoot #1 (February, 2012)
Edit
Camera -P45+
Camera manufacturer - Phase One
Location - London, England
Stylist - Johnny Blueeyes
Makeup artist - Pamela Cochrane (OBReperesents)
Hair - Anna Cofone
Set design - Matthew Duguid (Jed Root, Inc.)
Photographer's assistants - Jay Clark, Jamie Gray
Digital technician - André Skjegstad
Digital imaging - Guillaume Dulermo
All clothing by Armani, jewelry Lana's own
Media use
Edit
Behind the scenes
Edit
Shoot #2 (Unknown, 2012)
Edit
Media use
Edit
Ad blocker interference detected!
Wikia is a free-to-use site that makes money from advertising. We have a modified experience for viewers using ad blockers

Wikia is not accessible if you've made further modifications. Remove the custom ad blocker rule(s) and the page will load as expected.