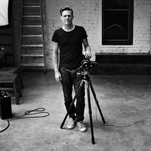 Bryan Adams is a Canadian rock singer, actor, and photographer who photographed Lana Del Rey in February, 2012 in London, United Kingdom. It was featured as the cover and editorial in Zoo magazine in Summer, 2012. He photographed her again later in 2012.
Shoot #1 (February, 2012) for Zoo magazineEdit
Camera – Phase One P45+
Location – London, United Kingdom
Stylist – Johnny Blueeyes
Makeup artist – Pamela Cochrane (OBReperesents)
Hair stylist – Anna Cofone
Set design – Matthew Duguid (Jed Root, Inc.)
Photographer's assistants – Jay Clark, Jamie Gray
Digital technician – André Skjegstad
Digital imaging – Guillaume Dulermo
All clothing by Armani, jewelry Lana's own
Behind the scenes
Edit
Media use
Edit
Shoot #2 (Unknown, 2012)
Edit
Media use
Edit
External links
Edit
Ad blocker interference detected!
Wikia is a free-to-use site that makes money from advertising. We have a modified experience for viewers using ad blockers

Wikia is not accessible if you've made further modifications. Remove the custom ad blocker rule(s) and the page will load as expected.