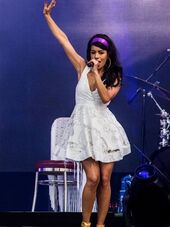 Ashley Rodriguez is one of the two dancers that joined Lana Del Rey during the Festival Tour (2016). The second dancer that joined was Alexandria Kaye.
Work with Lana Del Rey
Ashley was a backup dancer at Del Rey's following performances
Ad blocker interference detected!
Wikia is a free-to-use site that makes money from advertising. We have a modified experience for viewers using ad blockers

Wikia is not accessible if you've made further modifications. Remove the custom ad blocker rule(s) and the page will load as expected.