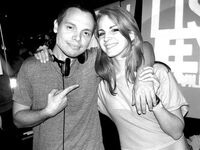 Aaron LaCrate is an American producer, recording artist, DJ, film director and fashion designer. He has remixed tracks by Madonna, Lily Allen and Dizzee Rascal. In 2011 he collaborated with Lana Del Rey on two tracks.
Work with Lana Del Rey
Edit
Songs currently unreleased:
Ad blocker interference detected!
Wikia is a free-to-use site that makes money from advertising. We have a modified experience for viewers using ad blockers

Wikia is not accessible if you've made further modifications. Remove the custom ad blocker rule(s) and the page will load as expected.